I've previously reviewed Schmidt's Deo Creme in Cedarwood and Juniper on the blog. I still like it and recently purchased another version in Bergamot and Lime that I haven't tried yet. Out of curiosity I thought I have a look for alternative deo creams that are produced in the UK.
If you don't like the thought of using a cream, there are some other natural alternatives for example at Lush, who have solid and powder deodorants. Many people also prefer crystal deodorants such as the ones by Faith in Nature or Salt of the Earth. The latter didn't work for me, but might be an alternative if you don't sweat too much. By the way, Schmidt's now has also deodorant sticks.
Aromawakening – Organic Deodorant Natural Handmade Vegan Sensitive Skin (£8.95/50ml)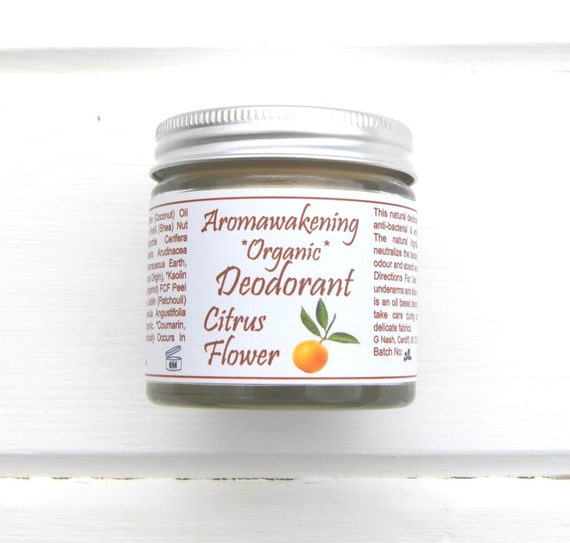 About:
This is a gentle blend of vitamin rich butters, oils and clays which will soothe and nourish your arm pits, it is Organic & Vegan. I do not use baking soda, I use a combination of arrowroot powder, Kaolin clay and Diatomaceous earth. (These absorb moisture and toxins from the pores). I blend these into Coconut oil which is anti-bacterial, I then add Shea butter and Essential oils. The Shea butter is vitamin rich, a real treat for delicate skin. The Essential oils smell great and have many benefits for the skin. Patchouli is wonderful for healing broken skin, Lavender is anti-bacterial and Bergamot helps to tighten the pores. It has a subtle sweet citrus aroma, suitable for both him and her.

I am a qualified Aromatherapist and all of my products have been safety assessed by an approved chemist to meet the EU Cosmetic Safety Directives.
I think it is quite interesting to see a deo cream that doesn't use baking soda. I've read a couple of times that some people can react allergic to it. If you are one of them this might be a good alternative for you.
Ingredients [Codecheck]:
*Cocos Nucifera (Coconut) Oil Organic, *Butyrospermum Parkii (Shea) Nut Butter Organic, *Euphorbia Cerifera (Candellila) Wax, *Maranta Arudinacea (Arrowroot) Powder, *Diatomaceous Earth (Food Grade), *Kaolin Clay, *Citrus Bergamia (Bergamot) FCF Peel Oil Organic, *Pogostemon Cablin (Patchouli) Leaf Oil Organic, *Lavandula Angustifolia (Lavender) Flower Oil Organic. *Coumarin, *Limonene, *Linalool (*Naturally Occurs In Essential oils).
Forestwalkers Bath & Body – Natural Deodorant (£4.00/30ml)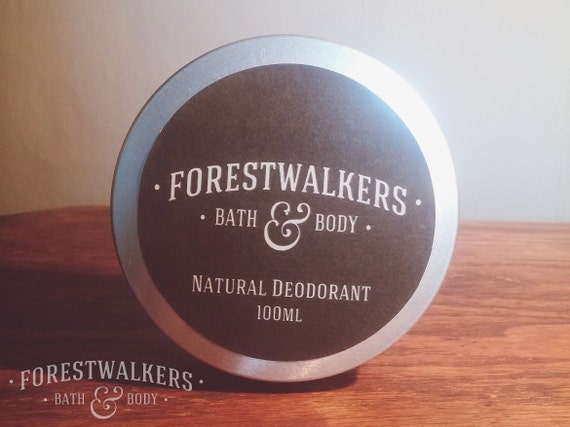 About:
100% Natural, vegan friendly bath and body products, hand-crafted in small batches and free from SLS's, parabens, animal products, artificial colours and unnatural preservatives. None of our products are tested on animals.

Our deodorants use coconut oil as a base, which acts as an effective moisturiser on all types of skin, baking soda to absorb odour, and cornstarch to absorb moisture.
I like the very small list of ingredients in this product. Also it does contain calendula, which is often used to soften and soothe skin, so I can imagine it works well under the armpits, which can be a sensitive area for most people.
Ingredients for Calendula version [Codecheck]:
Cocos Nucifera (Coconut) Oil, Sodium Bicarbonate, Zea Mays (Corn) Starch, Infused Oil Helianthus (Sunflower) Annuus, Calendula Officinalis Flower Extract
The Green Woman UK – Fit Pit Ethical Deodorant (£8.00/100 ml)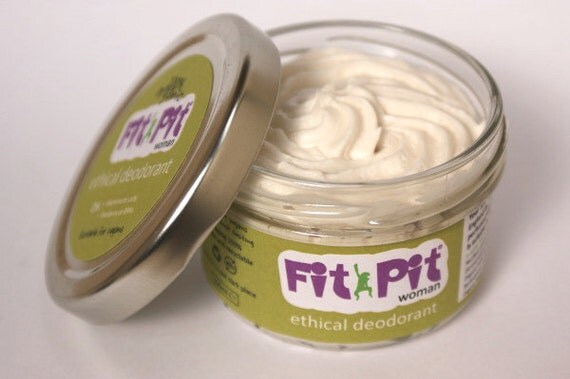 About:
Our Fit Pit ORGANIC cream deodorants contain no parabens or BPAs and no Aluminium Salts, are cruelty free and contain NO PLASTIC packaging. Tough odour protection, with love and a conscience.
I like that it is also available as travel size £3.00 for 25ml. You can read an interview with the two founders over at Suggerpuffish's blog to learn more about why they created Fit Pit.
Ingredients for unscented version [Codecheck]:
Sodium bicarbonate, Organic Cocos Nucifera (Coconut) Oil, Organic Maranta Arundinacea Root (Arrowroot) Powder, Organic Butyrospermum Parkii (Shea Butter), Organic Helianthus Annuus (Sunflower) seed oil, Organic Aloe Barbadensis powder (Aloe Vera).
The Natural Deo Company – Clean Deodorant Balm (£16.00/120ml)
About:
Nothing dirty. No petrochemicals. No artificial fragrance. No parabens. No fillers. No aluminium. Just 100% natural, organic & wild ingredients go into our amazing balm. Wildcrafted shea butter, nourishing coconut oil and our unique blend of organic essential oils ensure our Clean Deodorant Balm is not only an incredible deodorant- but is also kind & restorative on delicate under arm skin.
This particular cream I found through another blog called Naturia Beauty. I like that they offer the opportunity to buy a sample to try this deo for £1.50. The delivery was super quick as well and I am looking forward to trying it. I've only tried it once so far and the consistency seems to be very different from the Schmidt's one. Carina from Vegan Love Stories also reviews this deodorant.
Ingredients [Codecheck]:
Sodium Bicarbonate, Cocos Nucifera (Coconut Oil), Butyrospermum Parkii (Shea Butter), Maranta Arundinacea Root (Arrowroot Flour), Olea Europaea (Olive Oil), Pelargonium Graveolens (Geranium Essential Oil), Citrus Medica Limonum (Lemon Essential Oil)
Overview:
Other deodorant cremes:
Related posts: